Check out some of IDRA's activities during Banned Books Week!
---

Back a Book! Challenge
September 18-24, 2022
For Banned Books Week, IDRA is building a reading list for students to combat classroom censorship and book bans.
You can help! What is your favorite book? Tell us what books should be on the list!
Share your suggestions on social: IDRA Twitter • Instagram • Facebook
---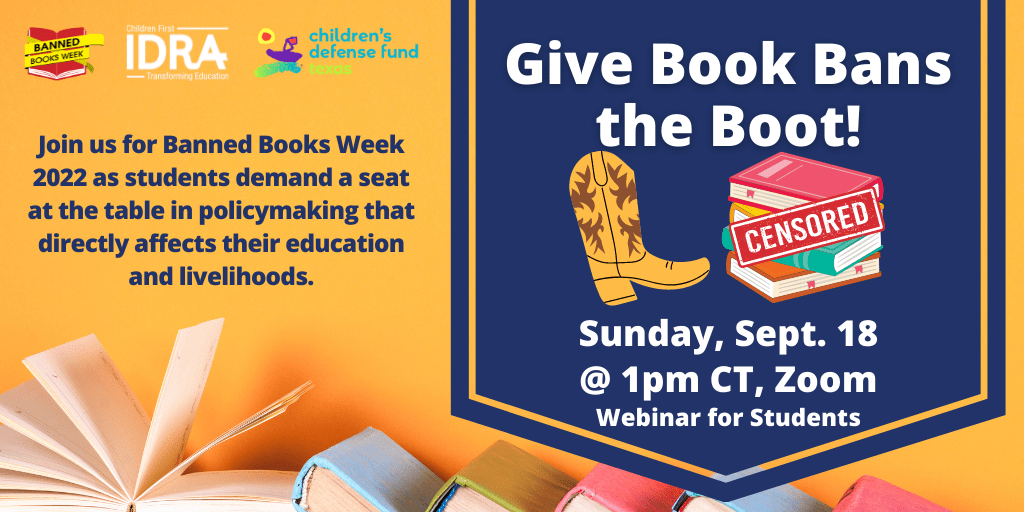 Give Book Bans the Boot – Webinar for Students
Monday, September 19 from 3:00 pm – 4:00 pm CT
Student-led webinar held by Children's Defense Fund-Texas and IDRA
Let's give book bans the boot! Join us for Banned Books Week 2022 as students demand a seat at the table in policymaking that directly affects their education and livelihoods. Certain leaders in power should not decide what students can and cannot learn about. Censorship has skyrocketed in classrooms and school libraries, but with the power of organized youth, you can make a difference in your local community. Attend this free interactive webinar to learn how to engage in the fight for an inclusive education.
---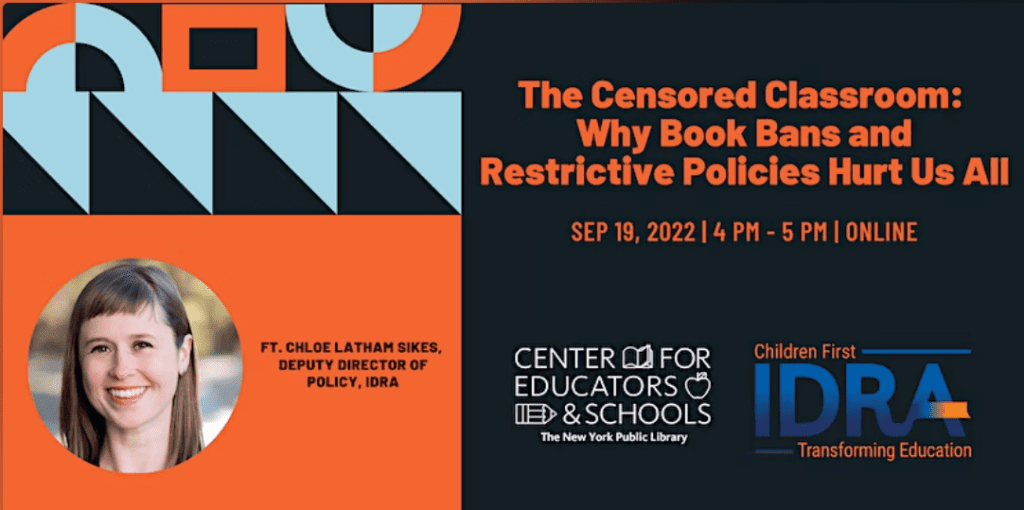 The Censored Classroom: Why Book Bans and Restrictive Policies Hurt Us All – Webinar
Held by the Center for Educators & Schools, The New York Public Library
Featuring Chloe Latham Sikes, Ph.D., IDRA Deputy Director of Policy
Monday, September 19, 2022, at 3:00 pm to 4:00 pm CT
Book bans and classroom censorship policies are sweeping the nation. Join the Center for Educators & Schools in a conversation about how classroom censorship policies weaken the quality of education and negatively affect educators, students, and society at large.
Chloe Latham Sikes, Ph.D., IDRA Deputy Director of Policy, will discuss what the current censorship landscape looks like today, where teachers can find resources to learn more, and what this means for the future of the teaching profession.
This event is open to all educators across the country and is part of the New York Public Library's Banned Books Week.
---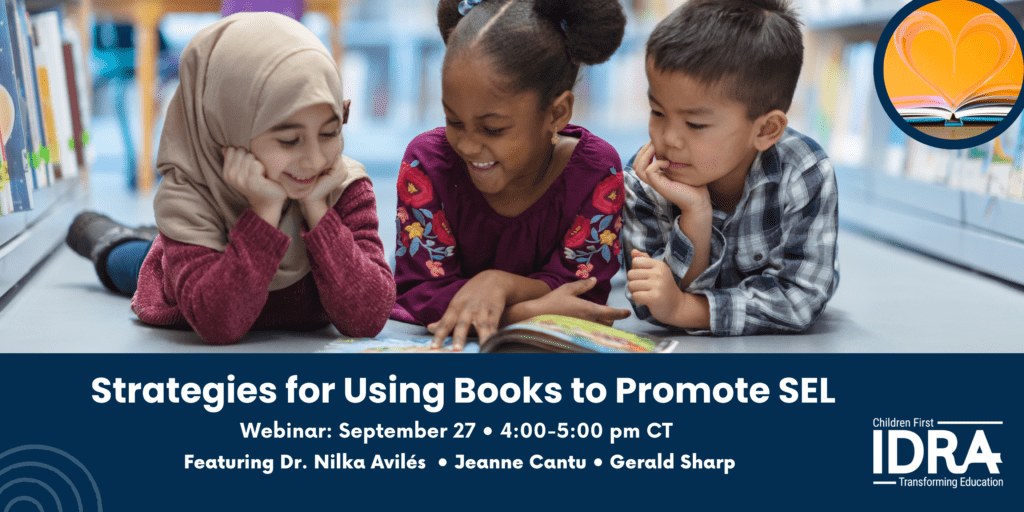 Strategies for Using Books to Promote SEL – IDRA Webinar
Tuesday, September 27, 2022, at 4:00 pm to 5:00 pm CT
Social emotional learning (SEL) is integral to student success in the classroom. It helps students develop the necessary skills to regulate their own emotions as well as build and maintain relationships with peers and teachers.
Research shows that SEL activities can lead to "improved classroom behavior, an increased ability to manage stress and depression, and better attitudes about themselves, others and school."
Through IDRA's Re-energizing Leadership to Achieve Greater Student Success project, led by Dr. Nilka Avilés, IDRA provided coaching to school leadership teams who saw the need for building teacher capacity in SEL strategies.
In this webinar, Dr. Nilka Avilés and consultants Jeanne Cantu and Gerald Sharp will present the strategy of using interactive read alouds. Students can read about and hear how book characters respond to different behavioral and emotional situations that may be similar to their own. Since read alouds are a traditional component of classroom instruction, they are a natural and easily integrated vehicle for introducing and practicing social and emotional responses in the classroom. Interactive read alouds can readily be followed by extension activities, such as reader response, oral discussions, role playing and writing. And they and the extension activities will help build a sense of community in classrooms and support students in their interactions with others.